Here's what Arbor Age magazine thought of our EWP
If the Monitor 1890 Spider Lift was a kid at school, it would be that kid who always got picked first on sports day for anything else for that matter. The 1890 ticks all the boxes for a very economical and compact machine that is trailer-able, very quiet and has impressive reach for its size.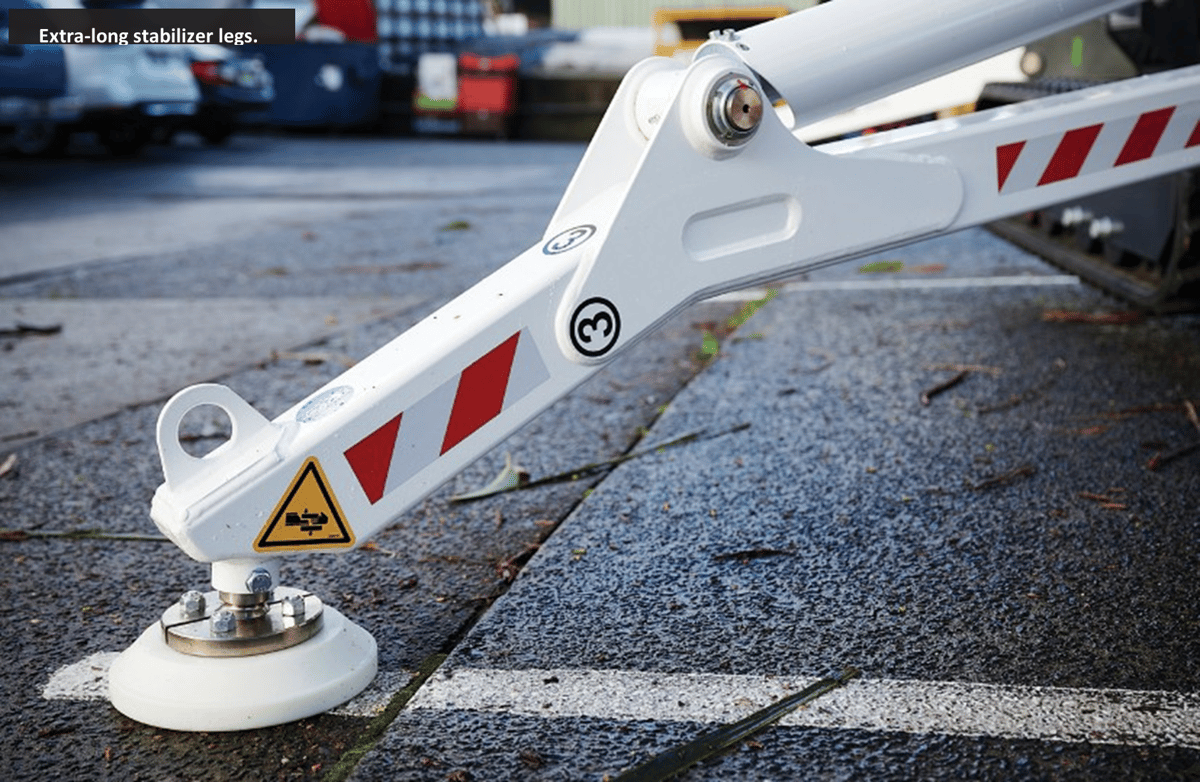 IYou won't find many if any with a narrower footprint of the 1890's 790mm
n the Australasia region you simply won't find a more popular spider lift than the Monitor 1890 Spider Lift. Its ease of use is right up there and, with multiple add-ons and variations, this machine can be tailored to your specific needs.
The Monitor 1890 almost sounds too good to be true but after seeing it in action firsthand down in a busy area in Brookvale, I've got to say I too was impressed with the reach and small footprint of this fantastic machine.
Our test operator for this review was Alex Penn from Northern Beaches Tree Services, who gave us a first-hand experience as to why the 1890 is so popular.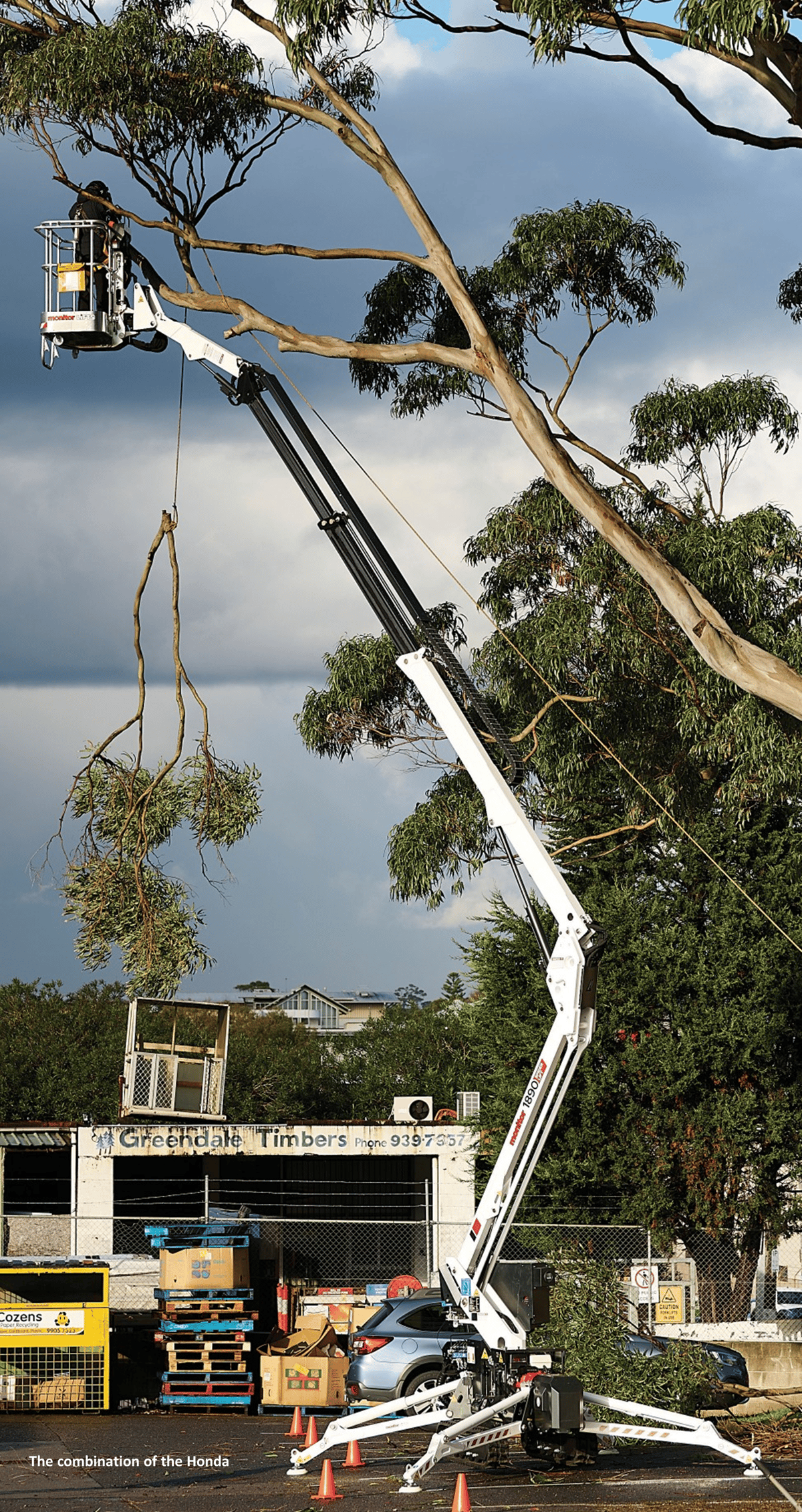 The combination of the Honda petrol engine and Lithium battery is a great set up.
Alex from Northern Beaches Tree Services
As we set up at 6:45am, Alex was able to use the Lithium battery to get the machine off the trailer and into position and ready to go with next to zero noise from the spider lift. Then, when the clock ticked over at 7:00am, he started the Honda Engine and started work.
Having the best of both worlds with the petrol engine and Lithium battery was impressive.
The machine was working on mostly flat concrete, so the set up and levelling was a breeze. The variant we had to test didn't have auto levelling, but this feature is an add-on that can be easily added if needed.
Small footprint and impressive 18m reach
For those working in residential areas and needing tight access capabilities, the 1890 goes down to 790x1920mm in size which allows it to drive through a domestic doorway. Chatting with Alex about the ease of the set up, he shared: "You couldn't ask for a better machine to set up, it was ready to start work in minutes, and even though today's site was in a car park with plenty of room, a lot of our work is on residential homes where tight access is an absolute must. Being able to fit through gates, doorways etc is key, and you can see from today, when the machine is configured for tight access, it's not going to cause you any headaches."
"Having the best of both worlds with the petrol engine and Lithium battery was impressive."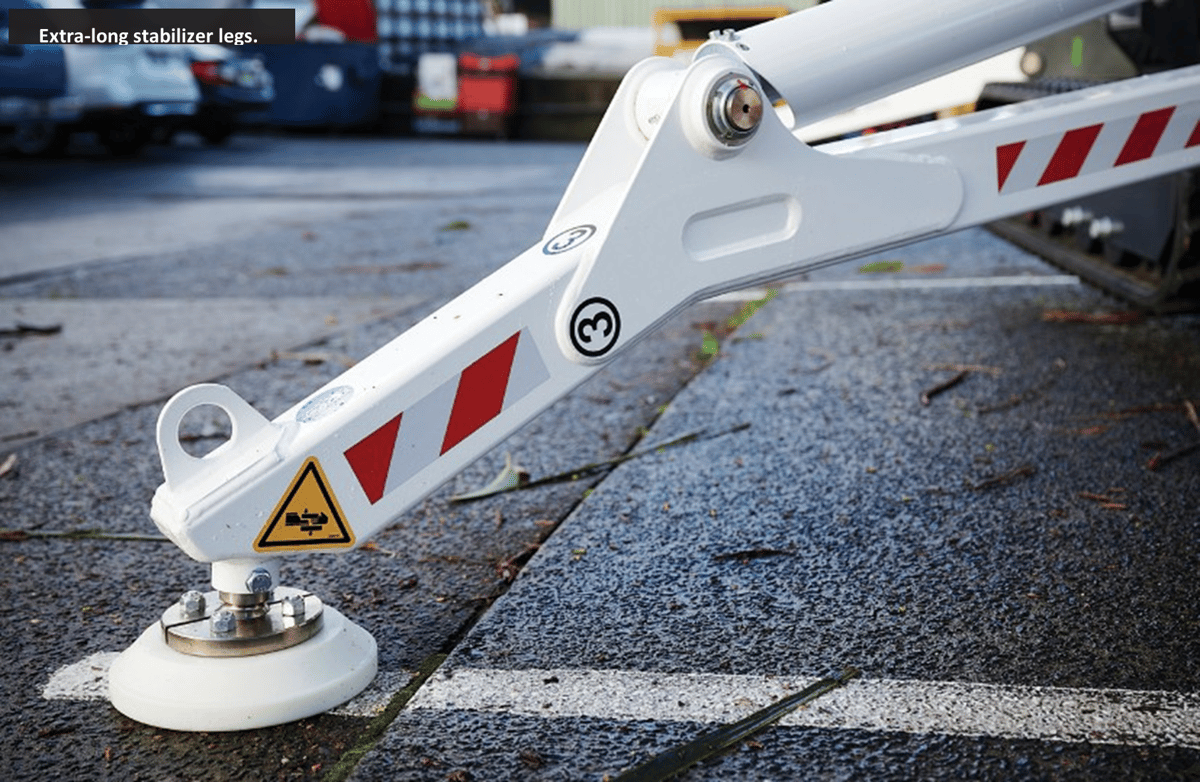 It's not surprising this is such a popular machine with these features and ease of use.
Alex continued: "As we were setting up this morning, it was pouring with rain. Then we were lucky enough to have a narrow window of time to get in and get our work done. If we were climbing, there's no way we would have completed today's job.
There were some thick sections on several blue gums that needed to be cut back, and a handful of palms that needed some attention as well. To be able to utilise the 18m working height and 9m horizontal reach so quickly and easily made short work of this morning's job. Being a busy car park area, we needed to get in and get out with as little impact on the surrounding businesses as possible, and with the Monitor 1890 Spider Lift we certainly did that. In amazing time."
The Monitor 1890 sports some extra-long travel stabilizer legs which make it perfect for working on sloping sites. So, operators like Alex who work in a mix of residential and commercial projects are going to find a range of standout features that make this such a versatile machine.
Alex said: "If I had to pick the top three features that made this such a hit for us today, they would have to be, #1 Impressive reach, #2 Compact size, #3 Ease of use. Earlier today I wasn't sure we were going to have the reach we needed to get to the top of these big trees, but the Monitor got us there without any problems."
"The fact you can easily tow this to site on a trailer, quickly unload and make your way through gates or doorways and get into position, is awesome. The basket can be removed by a single person in less than one minute and the operations are simple and straight forward."
Alex said, "If for some reason you do have a drama when operating your spider lift, you can call Monitor who will direct you to the onboard Cam bus system, where they will step you through a quick and easy diagnostic system to identify the problem and get you back to work in no time. This onboard system also controls the safety aspects of limiting the positioning of the spider to stay within safe working parameters."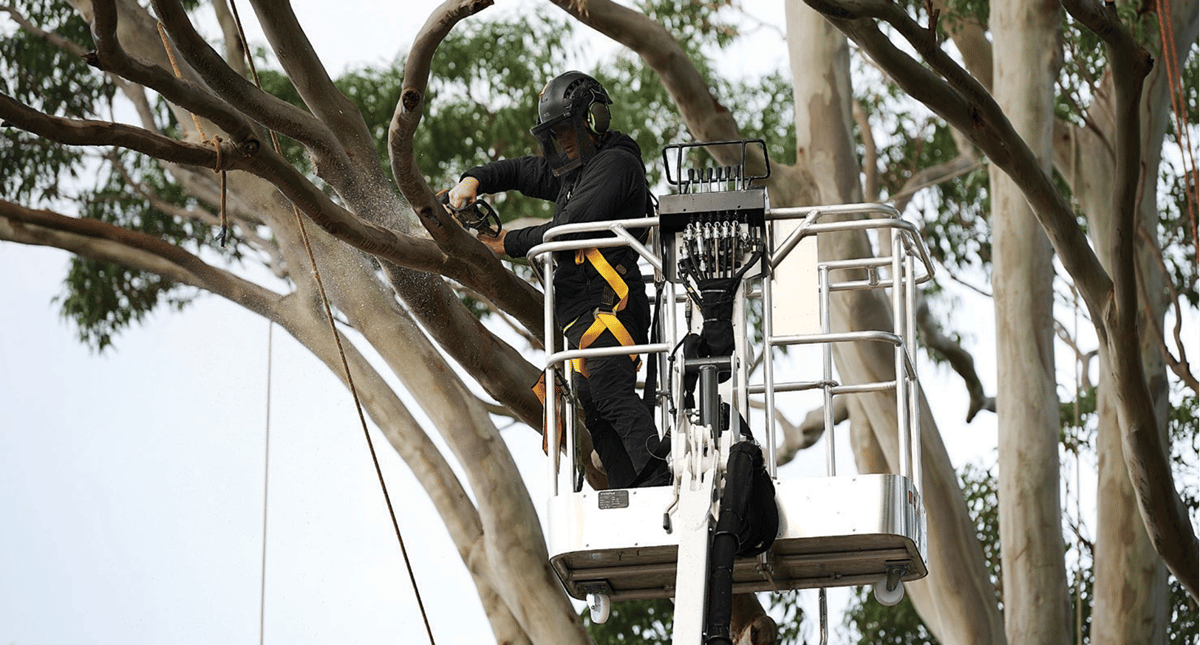 Alex enjoying the reach and stability of the Monitor 1890 Spider Lift.
The wrap up
As the looming storm clouds rolled in a few hours after we started work, the boys were in pack-up mode as the job had been completed in great time and total safety. Without the Monitor spider lift on site, there was no way Alex and his team would have been anywhere near completing their work when the rain set back in.
It's this huge time saving element, along with the added safety, compact size, ease of use and amazing reach that has made the Monitor 1890 Spider Lift such a well-rounded and popular machine and with the customisation that exists with this great spider lift, it's looking like the 1890 will continue to be the first choice for many operators in the tree care, arboriculture and vegetation management area moving forward for some time.
Monitor 1890 Spider Lift
Compact size
Simple to operate
Easy to transport on trailer
Minimum width 790mm
Great access
Extra-long stabiliser legs
Impressive 18m reach
Talk to us about spider lifts for arborists
To find out how a spider lift could offer your arborist business a more efficient access solution, call Monitor Lifts on 1800 025 024 or contact us online.