"From little things, big things grow"
Cranes & Lifting magazine recently published an in-depth look at Monitor Lifts, complete with an interview with our own Ben Joyce. We've reproduced it here on our website with their permission.
From a small showroom in Tamworth, to an Australasian footprint with branches in Sydney, Brisbane and Melbourne, plus service outlets in many other cities across the country and in New Zealand, the growth for Monitor Lifts has been impressive.
In 1997, Monitor Lifts made a commitment to the spider lift and access market when it decided to bring across the Finnish designed and manufactured Leguan range of products. This offering has now grown to include a range of over 20 spider lift models and three rail boom models as well as truck and trailer lifts.
A wide range of spider lifts to suit many industries
The Monitor Lifts business has a focus on a number of key industries, including arbor, rental, construction, electrical, telecommunications and rail.
Their spider lift range extends from 12.3m reach through to an impressive 43.2m with over 18m of horizontal outreach. The largest machine features a basket capacity of 400kg, and has the ability to tackle the largest of jobs where size really does matter. Enormous stabiliser leg travel allows the Monitor 43T to set up and operate in the most challenging terrain. Yet, with its unique double telescopic booms, this machine will also allow operators to manoeuvre the basket into the work zone with precision.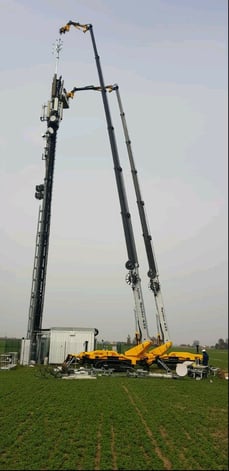 Ben Joyce, the director and general manager of Monitor Lifts, explains some of the recent developments to the Monitor Lifts range.
"In recent years, the addition of crane winches to the 20 to 43m working height spider lift range has been the standout," he said.
"We love pairing a client with a spider lift that suits their needs and applications – the spiders are so much more versatile than conventional access equipment. The result is, the customer ends up with a machine which is even more capable than they had imagined," Joyce said.
"Monitor Lifts have over 20 different spider lift models, from three different European manufacturers. No one else offers such an extensive range in Australia," he said.
"Our suppliers are leading the field with new technology such as lithium batteries, radio control systems, and modern boom designs. At the same time, we are offering a robust product that meets tough Australian expectations. The Monitor Lifts Australian product development team work with the factories to ensure that any products that get released to the market, are proven, reliable, safe and fully certified to meet Australian standards and compliance related requirements," Joyce said.
"The weight of a spider lift is an important advantage. For example, where a 12m four wheel drive knuckle boom lift weighs 5.2t, a spider lift with similar specs will weigh just 1.79t. This means they have a considerable advantage in transport costs, crane lifting capacities, or when operating on soft ground or fragile surfaces," he said.
Available spider lift configurations
Spider lifts have the capability to find a firm footing regardless of the terrain. They are available in either knuckle boom or stick boom configuration, each with their own advantages.
The knuckle booms are crucial in an application which requires 'up and over' reach. For example, if you're an arborist needing the clearance to reach over a fence or other obstacle to access a work area, a knuckle boom will achieve this.
On the other hand, stick boom lifts have no tail swing, which allows you to achieve maximum outreach at a lower vertical reach in most situations. This is ideal when you need a large outreach in an area with overhead obstacles above the machine, such as in the telecommunication sector, working around towers and lines.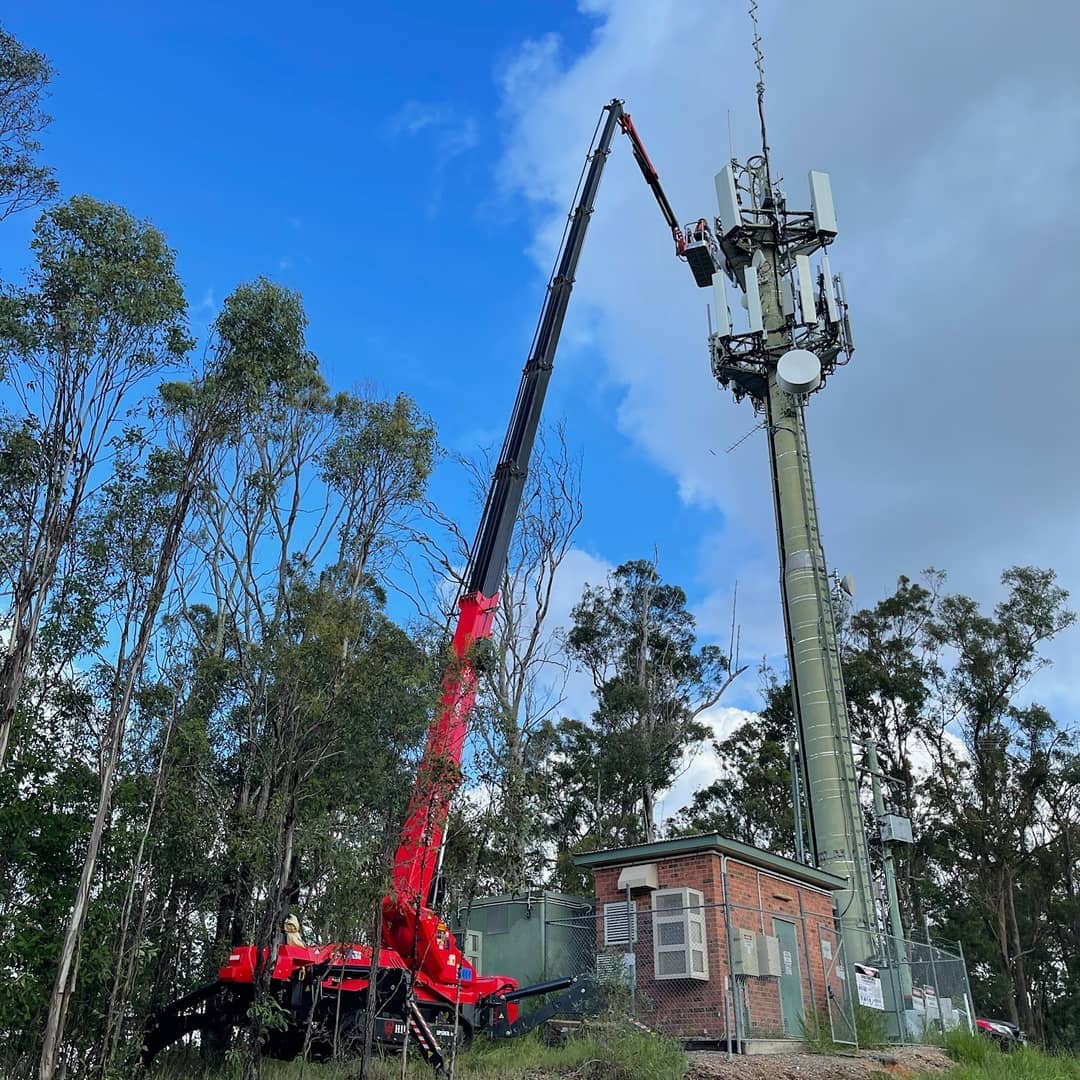 A focus on responsiveness and support
The Monitor Lifts team remains focused on its ever expanding and diverse range of clients. In terms of service and support, the team wants to understand their clients' requirements, whatever the industry. This way, they continue to be highly responsive with service and support to ensure the products are withstanding the rigours.
Ben Joyce explains how the Monitor Lifts team services its national base to minimise downtime for clients. "It's a big country, and that comes with big demands. We have specialist technicians based in many parts of Australia to provide fast and qualified response."
"The company's grass roots are based around exceptional and prompt service. The willingness of the entire team to put the customer first, means we often go above and beyond expectations to care for clients in difficult situations."
"Also, with some pilots on the team and our own aircraft this, often allows us to get to the machine many hours or days ahead of traditional methods," he said.
"In more recent years, the addition of branches in Sydney, Brisbane and Melbourne where we stock new machines and spare parts have allowed us to shorten up our response times even further," Joyce said. Perth and Canberra are on the radar for the company's expansion in the near future.
"To prevent breakdowns where at all possible, we put a lot of emphasis on service regimes and training," Joyce said. "In the event of an issue, Monitor Lifts has a 24/7 support phone line, and multiple technicians or advisers on call at any one time. Many clients communicate with other means, including Whatsapp or Facetime, but whatever it takes, we'll make it happen."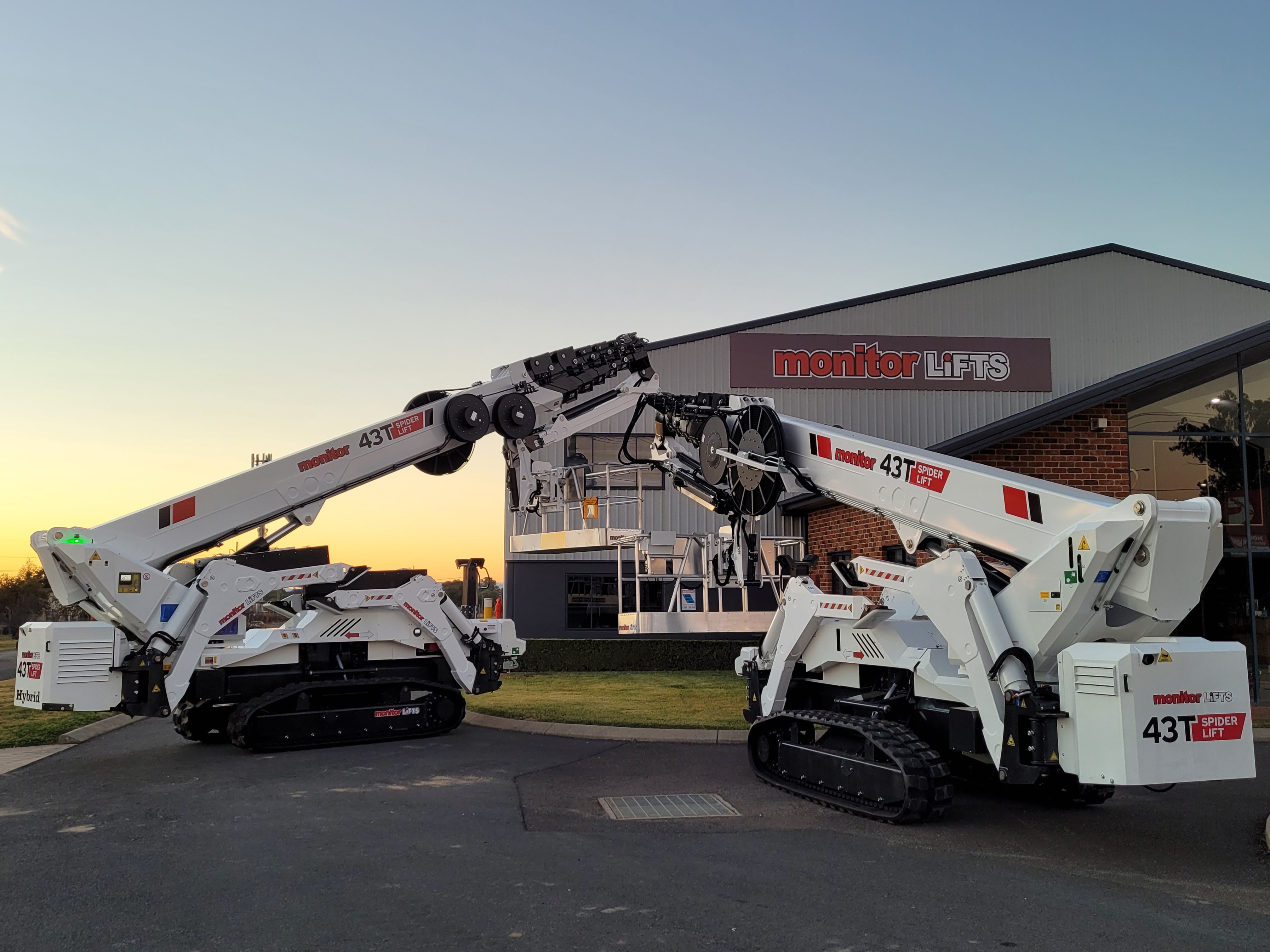 What their clients have to say about Monitor Lifts
Arborist Shane recently purchased both an 1890 and a 2210 spider lift, and spoke of the benefits of the machines.
"The Monitor Lift machines are just fantastic. So much easier to use and reliable compared to our previous products from other brands. We used to get called out to 1 in every 2 jobs where we used the spiders to help with operation or with some issues, but we haven't been called out to the Monitor 2210 or 1890 once yet! We are getting excellent utilisation; they are both out today," Shane said.
Matt Cook, an arborist in New South Wales, explains the benefit of working closely with the Monitor Lifts team. "The things I value most are the human elements of integrity, respect and friendship, as well as great products and support. I think we get that in bucket loads from Monitor Lifts," Cook said.
Talk to us about spider lifts for arborists
To find out how a spider lift could offer your business a more efficient access solution, call Monitor Lifts on 1800 025 024 or contact us online.